Artificial Intelligence with SambaNova
Secure, performance driven cloud AI accelerator for organizations seeking a competitive advantage in faster time-to-insights and model outcomes
A high-performance deep learning platform
Modern organizations are moving to AI/ML solutions in addition to moving to the cloud. But where to start? How do you harness massive amounts of diverse, unstructured and machine data to gain valuable business insights and protect it all in a secure cloud environment?
SambaNova and ORock have partnered to deliver performance driven, secure cloud-based AI accelerator for organizations seeking a competitive advantage in faster time-to-decision and model outcomes. Now there is a cloud-based solution that gives your organization the ability to build, train and deploy deep learning models at both speed and scale. No need to wait weeks or even months to get to critical business insights.
Offload AI Complexity to the Experts
ORock AI Cloud helps you to rapidly deploy models to accelerate AI workloads. We provide comprehensive services, models and an optimized AI platform—empowering you to deploy both turn-key, prebuilt models as well as customized solutions with total confidence.
Rapidly act on data insights at the speed of cloud
With ORock and SambaNova, you can easily harness your AI/ML models  to deliver the insights critical to your business. Customers can now rapidly deploy AI services with pre-built Natural Language Processing (NLP), true resolution computer vision and recommendation models all powered on the ORock cloud.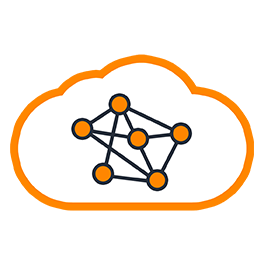 Adhere to federal security and compliance standards
ORock's FedRAMP-authorized cloud are secure and adhere to federal security and compliance standards, including PCI DSS, HIPAA and HITECH. This solution is ideally suited for organizations that operate in highly regulated industries, including:
Financial services
Healthcare
Manufacturing
Retail
Oil and Gas Energy
Government
Get a price-predictable environment for your AI data hosted in the ORockCloud
Big data powers AI/ML initiatives and getting the data to where you need it is critical. Moving your data to where you need it should not require exorbitant fees. ORock charges you nothing to access your own data and eliminates those hard-to-predict data ingress, egress and trans-region transfer fees. You're also not vendor locked-in and can power your mission-critical AI applications without purchasing, deploying or managing costly additional on-premises infrastructure.
Focus on business growth while ORock experts manage your cloud infrastructure
ORock provides personal customer support. ORock and SambaNova cloud and AI experts will help guide you along every step of your AI/ML journey. You can be confident that whether your project is large or small, our team of experts will ensure your project success.
Call ORock to learn how ORock AI Cloud can help you achieve your AI goals
Are you eager to get started and meet the specialists that can help you unlock the power of your AI data at the speed of cloud? Contact ORock to find out how you can benefit from the ORock and SambaNova solution.