A Free Data
Science as-a-Service Sandbox
for data scientists to easily experiment with Tensorflow and PyTorch on the most secure cloud
Are you and your team of data scientists eager to build, deploy, and experiment with popular AI/ML TensorFlow and PyTorch technologies? If you're looking to shorten the time it takes to deploy these AI & ML workloads, ORock has a free sandbox version of HPE's Ezmeral Container Platform in the ORock cloud for you to try that is agile and secure.
Free your data scientists of the complexity of deploying AI/ML apps and allow them to gain speed to business insights instead of losing valuable time waiting for IT resources.
See what one-click access to popular data science tools can do for your business

Data scientists, from entry-level engineers to senior Kubernetes administrators, can now take immediate action and experience a simple, automated way to quickly deploy AI/ML apps into production in a repeatable manner that connects to data sources in the cloud, on-premises and at the edge.
Test your workload application in ORock's compute, storage and network cloud infrastructure by applying for the free container sandbox offer for qualified enterprise accounts. Fill out the form and download the solution brochure. We'll contact you and further qualify with 4 questions for the free sandbox.
Key benefits include:
Keep costs down with the convenience of an As-a-Service platform. Consume data science tools on-demand and manage resources to optimize productivity while reducing costs.
Boost data science productivity. With a rich library of leading applications and analytics tools, data scientists can deploy and run jobs quickly and easily leverage the power of containers.
Reduce security risk. Get enterprise-grade security and access control with built-in user and data security and administration controls.
Innovate with open source tools. Flexible suite of open source tools— supports applications and libraries that are commonly available and offered as leading open source components.
Access a built-in apps library. Streamlined and pre-built comprehensive image library for your data prep, model building and model training.
Fast time-to-value. Provision required sandbox environments in minutes.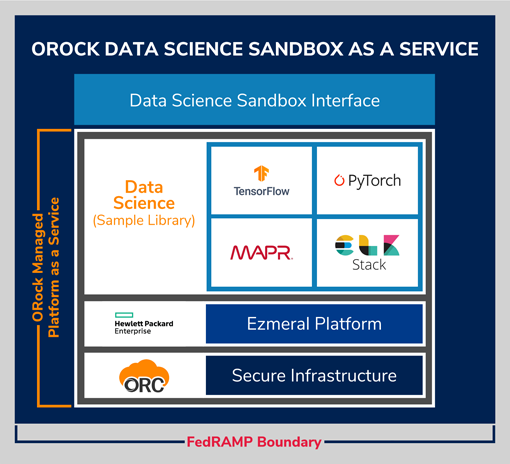 Accelerate your AI/ML application modernization initiatives today
Data scientists at enterprise companies looking to test a manageable PyTorch or Tensorflow workload can simply fill out this form and download the solution brochure.
We'll call you and ask four simple questions to qualify you for a free 14-day sandbox trial service.