Retire Quota Faster with ORock
The Hybrid Cloud Powered by HPE GreenLake
ORock's HPE-based solutions help you achieve your sales objectives and meet customer demand for hybrid cloud services. Contact us to learn how the HPE/ORock relationship will complement your on-prem business and capture new cloud-based "as a Service" recurring revenue streams.
ORock's advanced hybrid cloud solutions utilize HPE Gen10 technologies, HPE Pointnext Services, and the HPE GreenLake program. That means you can offer your commercial and government customers a HPE-based hybrid cloud for secure storage, hosting, containers, ransomware recovery, and more.
MEET WITH OROCK
Request an account planning session with the ORock sales team today.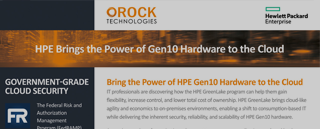 ORock & HPE Value Proposition
Learn about the ORock/HPE relationship and the benefits of utilizing ORock's HPE-based solutions.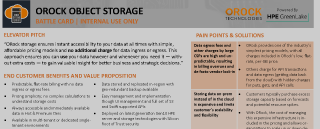 Object Storage Battle Card
Discover the ORock Object Storage elevator pitch, value proposition, competitive differentiators and more.
Send your customers to our virtual booth: