ORock Technologies and immixGroup Sign Exclusive Distribution Agreement
immixGroup to Distribute ORock Technologies' FAAS Solution for Streamlined FedRAMP Authorization
RESTON, Va., April 16, 2019 /PRNewswire/ — ORock® Technologies, Inc. today announced the formation of a strategic relationship with immixGroup, Inc., an Arrow Company. The distribution agreement names immixGroup as the exclusive distributor of ORock Technologies' Federal Application Authorization Services (FAAS) solution for independent software vendors (ISVs) that sell to U.S. government agencies.
The FAAS program simplifies and accelerates the process of authorizing a software as a service (SaaS) application through the Federal Risk and Authorization Management Program (FedRAMP). SaaS solutions that complete the FAAS process can be sold to government agencies as FedRAMP-compliant SaaS offerings (powered by ORockCloud), with authorization for government use at the FedRAMP Moderate Impact Level. The program requires sponsorship from a government agency prior to initiation.
As the exclusive distributor of FAAS, immixGroup now offers this turnkey program to help ISVs significantly reduce the time, cost, and complexity of achieving FedRAMP authorization. FAAS incorporates: application hosting in the ORockCloud, a FedRAMP Moderate, enterprise open source cloud with 325 security controls; creation of a System Security Plan (SSP) for the application; security consulting review of the application by Coalfire, a leading provider of cybersecurity risk management and compliance services; a third-party assessment from Schellman and Company, an accredited 3PAO; an individual listing for the application on the FedRAMP Marketplace; and full management of the process and the authorized application by cleared U.S. citizens in the ORock Technologies Network Operations and Security Operations centers. ORock Technologies is also developing a FedRAMP High cloud and will introduce a FAAS program for ISVs that require FedRAMP High authorization in the future.
"FedRAMP authorization has become a requirement for ISVs to grow their government business while ensuring their applications meet strict government security controls," said ORock Technologies Co-Founder and CEO Gregory Hrncir. "Our relationship with immixGroup allows these companies and their channel partners to meet the growing demand for FedRAMP-compliant SaaS offerings while speeding time to market, reducing risk, and lowering up-front investment."
"We're excited to bring this application hosting and authorization capability to the ISV community as an exclusive immixGroup offering," said Troy Fortune, vice president and general manager of immixGroup. "Our relationship with ORock Technologies gives our suppliers and solution providers an affordable, accelerated route to market in the cloud while addressing the security needs of their government customers."
To learn more about FAAS, visit orocktech.com/solutions/faas/. Additional details on the immixGroup program can be found at immixgroup.com/FedRAMP.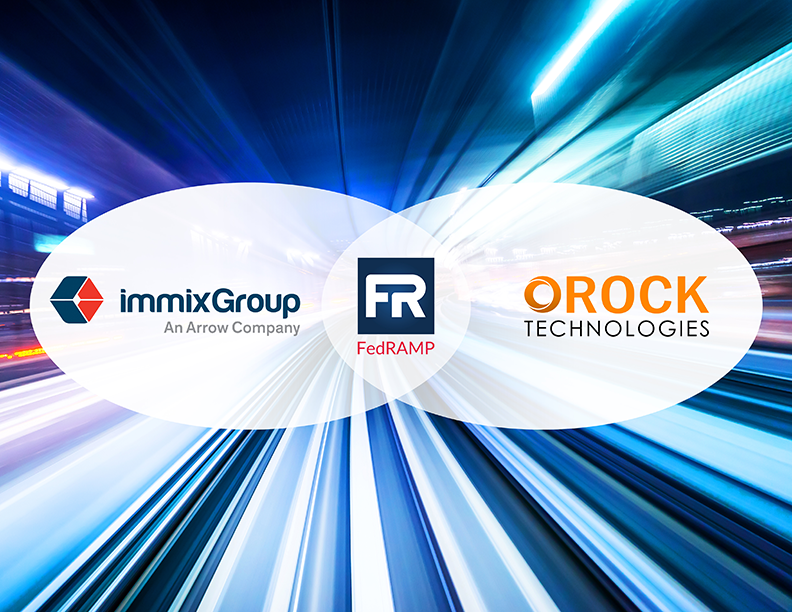 About ORock Technologies
ORock Technologies provides secure infrastructure and cloud services for government agencies and enterprises in highly regulated industries. The company operates a private, high-performance fiber optic network and an enterprise-grade open source cloud to meet the most stringent customer requirements for data security, performance, cost predictability, and control.
Contact:
Allan Rubin
Chief Marketing Officer
ORock Technologies, Inc.
(571) 386.0201
arubin@orocktech.com
www.orocktech.com